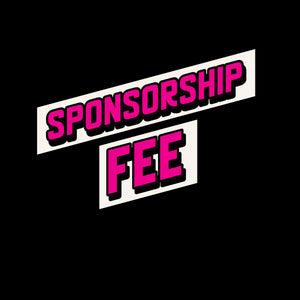 SPONSORSHIP FEE
Regular price
$99.99
$0.00
Unit price
per
EVENT INFO: "TKL II Business & Purpose Mixer" hosted by Hustling Spirit on Saturday, April 16, 2022, 12 pm-4 pm. This event will be held at LMB Events 1415 Crown Point Rd. Westville, NJ 08093. (Please put this address in your GPS prior to the event to confirm your route)
Sponsor Agreement:
Dear Hustling Spirit/TKL Business & Purpose Mixer Sponsor! Below is the Sponsor Agreement, Terms & Conditions: Remitting Payment of your $100 Non-Refundable Sponsorship Fee serves as your agreement to the below terms and conditions.
The TKL Business & Purpose Mixer is an Extraordinary Networking event that offers empowered mainly female entrepreneurs the opportunity to showcase their business and talents with the local community.
TKL Business & Purpose Mixer is a platform that focuses on being a visual example of individuals creating impact and income with their gifts, talents, passion, and purpose. We provide examples of entrepreneurs who have stepped out on faith to fulfill their destiny and are hugely successful in their lane. We want to show the attendees what's possible for them as well.
The TKL Business & Purpose Mixer activities include vending opportunities, spoken word artists, empowerment speakers, musical artists, empowerment dancers, creative performances, food, shopping, networking & More!
Sponsor Package Benefits:
-8 Ft Vending Table w/2 chairs
-2 Guest Passes

-30 min Presentation/Segment

-Professional Photos of Segment

-Media Coverage

-Logo & Photo on Personalized & Group Flyer

-Listed as Official Sponsor on Marketing/Website & Social Media Ads

-Direct Networking & Marketing to a Niche audience

-Platform to Present & Pitch Product/Services/Events

Audience:

90% Females: Age: 25-55: Tri-State Area
Previous Event Stats: 90 Tickets Sold. 70 Attendees
Current Event Projection: 100-120 Attendees
Facility Capacity: 225 Attendees

 Our Vendor/Sponsor process was very extensive so that we can ensure that each vendor/sponsor hand-selected represented the Hustling Spirit standard and their own business with high integrity and professionalism. Each vendor/sponsor agrees to the standard of maintaining a respectful and professional environment with guests and Hustling Spirit staff and volunteers at all times.
Your non-refundable sponsorship payment of $100 is due within 7 days of receipt of this email via the link provided in this email.  
Set-up Time Begins at 10:30am-12pm. Breakdown: 4p-5pm.  The vendor/sponsor agrees to maintain a clean and organized display section. Bulk trash must be removed or discarded at the end of the event. All displays or signs must be Free-standing and not block any other vendor displays. No signage can be attached to the walls. Space locations will be assigned.
PRODUCTS OF SALE:
The vendor/sponsor agrees to sell only the products that were reported in the vendor inquiry form and the products they are authorized to sell. Vendors are solely responsible for the items they sell. "Hustling Spirit" accepts no responsibility for the sale of unauthorized items. In addition to items lost, stolen, or left behind in the facility.
Hustling Spirit/TKL Business & Purpose Mixer agrees to heavily promote this event and its participants and sponsors on all of their social media platforms and email lists. FB/IG Sponsored ads will also be included in the advertising of this event.
However, we can not guarantee a certain number of attendance nor sales. It is highly recommended that vendors/sponsors promote their participation in this event on their social platforms as well. Please submit a high-resolution file of your logo and your photo to info@hustlingspirit.com
The vendor/sponsor agrees to honor the $5-off voucher at their table. Each guest will be issued a $5-Off voucher to be used at their discretion on purchases of $25 or more.
Craig & Kenya Linton, Founders
Hustling Spirit, LLC
www.hustlingspirit.com
---
Share this Product
---